SchoolsFirst Federal Credit Union CD rates are some of the best available with a 1.60% APY on its 5-year certificate, while other terms and conditions may vary by state. SchoolsFirst is chartered in Virginia Beach, VA and has been offering financial services since 1926.
SchoolsFirst Federal Credit Union offers a range of savings interest rates. From as low as 0.01% to 1.60%.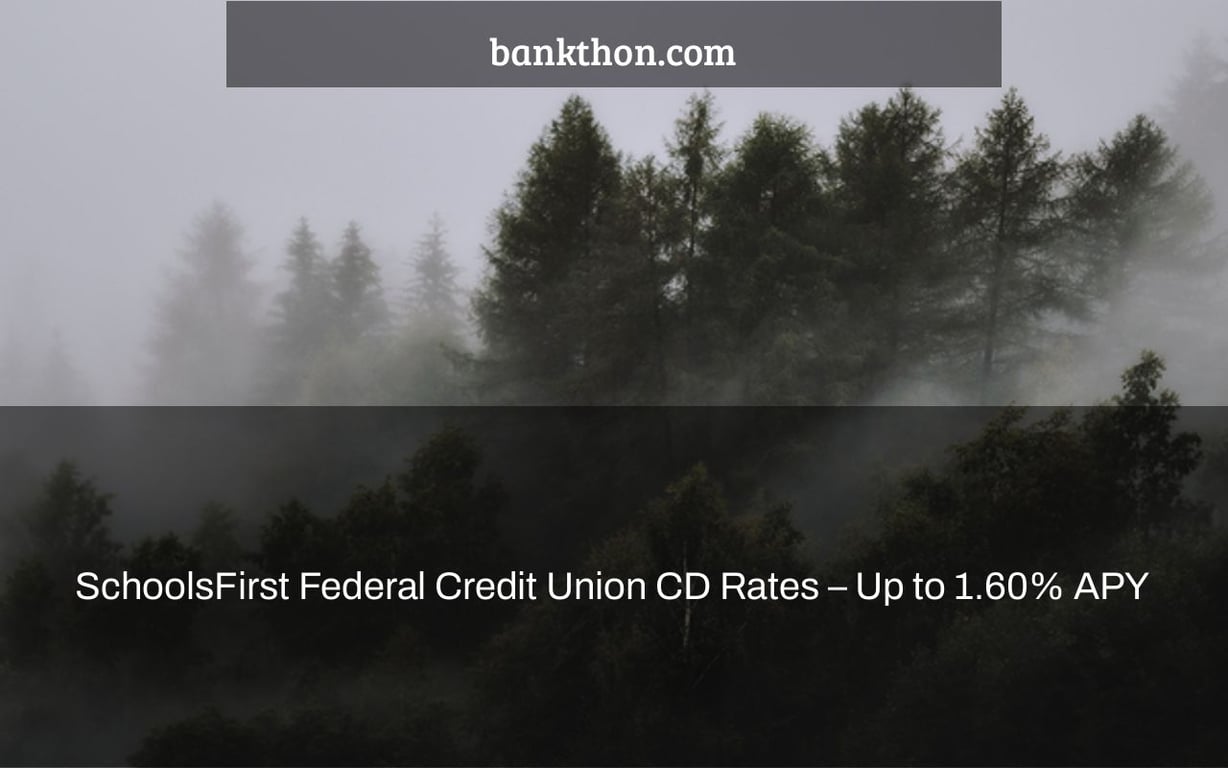 SchoolsFirst Federal Credit Union is a credit union for educators and their families, founded in 1934 by a group of California school personnel. SchoolsFirst Credit Union, with more than $25 billion in assets and over one million members, is the fifth biggest credit union in the United States and the largest in California. By selecting this credit union, members save an average of $482 each year.
Employment and location both limit membership. If you wish to join this credit union, read this article to learn how to do so and if the CDs are worth it.
This article will teach you:
With a $500 deposit, SchoolsFirst Credit Union may establish certificates of deposit, CDs, or share certificates (for credit unions). The NCUA insures these accounts up to $250,000 per account, per depositor, under federal law.
This product's interest rate is determined by your account balance as well as the duration of your term. Shorter periods and lesser balances yield a greater interest rate than longer durations and bigger balances. 
Check out the current prices in the table below or visit their website.
 CD Rates
| | | | | |
| --- | --- | --- | --- | --- |
| Term | $500 – $19,999 | $20k – $49,999 | $50k – $99,999 | $100k+ |
| 30 days | 0.05% | 0.20% | 0.25% | 0.30% |
| 3-5 months | 0.35% | 0.40% | 0.45% | 0.50% |
| 6-11 months | 0.40% | 0.45% | 0.50% | 0.55% |
| 12-17 months | 0.65% | 0.70% | 0.75% | 0.80% |
| 18-23 months | 0.70% | 0.75% | 0.80% | 0.85% |
| 24-35 months | 0.75% | 0.80% | 0.85% | 0.90% |
| 36-47 months | 0.95% | 1.01% | 1.05% | 1.10% |
| 48-59 months | 1.20% | 1.25% | 1.30% | 1.35% |
| 60 months | 1.45% | 1.50% | 1.55% | 1.60% |
According to current FDIC statistics, the national average rate for a 6 month CD is 0.10 percent, 0.17 percent for a 12 month CD, 0.22 percent for a 24 month CD, and 0.32 percent for a 60 month CD. However, when compared to other online banks and credit unions, SchoolsFirst Credit Union's rates aren't very low.
The highest rates are paid on jumbo certificates, which are those with balances larger than $100,000. This may become more obvious if interest rates continue to increase.
You may fund this account using a direct deposit from your employer, an ACH bank transfer, an internal transfer from a savings or checking account, or a cheque sent to:
SchoolsFirst Credit Union
P.O. Box 11547
92711-1547 Santa Ana, CA
Interest Compounding
Interest is compounded daily and may either be deposited back into the certificate monthly for maximum profits or paid out to a different account on a regular basis. You may choose to receive dividend payments through check or by linking a Regular Share Savings or Share Draft Checking account.
Early Withdrawal Penalties and Grace Period
Your account will automatically renew at the same term you requested for when it reaches maturity. Ten calendar days is the grace period. You may withdraw cash from your account or make modifications to your certificate during this period without incurring the early withdrawal penalties listed below: 
You will be charged seven days' interest if you remove money from an account within six days of opening it.
A penalty equivalent to 30 days' interest will be charged if you cancel your contract early.
An early withdrawal from a period of 30 to 18 months will result in a penalty of 90 days' interest.
Early termination of a term of more than 18 months will result in a penalty of 180 days' interest.
This charge may be waived once in rare circumstances, such as the account holder's death.
You may utilize the remaining amount in your Share CD to secure a Certificate-Secured loan. Unless the funds are required for repayment, the certificate will continue to collect interest while you retain the loan. These loans offer lower interest rates and are less difficult to get than conventional personal loans. The interest rate is 2.5 percent more than the rate on your Share Certificate, which is much lower than even the lowest personal loan rate you may qualify for.
Certificate for College Saver Share
SchoolsFirst also offers a 12-Month Certificate for College Saver Share. This account requires a minimum opening deposit and balance to earn interest of $200. The interest rate for this account is equal to the interest rate for a standard 12 month Share Certificate, which is currently 0.75% APY, regardless of the balance.
These CDs are accessible to members of the Junior Varsity and Varsity Clubs who are under the age of 18. One for each individual. When the account holder reaches the age of 18, the certificate will mature as a conventional CD, or as a Share Savings account if the amount is less than $500. 
Unlike a standard CD, members are permitted to make deposits of at least $25 into this account at any time. The same early withdrawal penalties apply for 12-Month Certificate for College Saver Shares. There must be at least one parent or legal guardian as a joint owner for this account, who is required to sign off on any withdrawals or changes.
Besides the College Saver certificate, SchoolsFirst Credit Union only offers standard CD accounts at this time. If you're looking for a flexible, bump-rate, or no-penalty certificate, you're going to have to go elsewhere.
SchoolsFirst Credit Union does really well in customer review platforms, especially for a credit union. Many customers praise the low fees and appreciate the variety of specialized options for teachers from loans to Summer Saver and Paycheck Planner savings accounts. SchoolsFirst is also known for having prompt and helpful customer service representatives and welcoming staff members. 
You can anticipate good, personal service and an overall favorable experience with this credit union, especially if you live near a branch location and want to perform part of your banking in person. There aren't many reviews that say otherwise.
You may perform as much of your banking online as you wish since the web interface is user-friendly and simple to understand. The mobile application may be improved. It now has a 4.6-star rating on Google Play, but just a 3.2-star rating on the App Store. The software is decent for Android users, albeit nothing remarkable, and it's quite dependable and simple to use. The software is not always responsive for Apple users, and certain capabilities are difficult to use or prone to problems.
There are 69 SchoolsFirst Credit Union branch locations across California including in major cities like Santa Ana, Anaheim, Long Beach, and more. This credit union has more than 28,000 in-network ATMs (including co-op ATMs) across the country that members can use without paying a surcharge. Use this ATM/Branch Locator to find a location near you.
If you don't want to visit a branch, you have many choices for contacting customer service. You may reach the member contact center at 800-462-8328 Monday through Friday from 7 a.m. to 7 p.m., and 9 a.m. to 3 p.m. on Saturday, or use the TellerPhone at 800-540-4546 or 714-258-4100 for ordinary banking requirements. TellerPhone is an automated phone service that is accessible around the clock.
Alternatively, you can log into your account and send a secure message if your question or concern is not urgent. This may take a few business days. For faster responses, use the chat function on the SchoolsFirst Credit Union website. This is available between 7 am and 7 pm Monday through Friday and 9 am and 3 pm on Saturday. 
If you are a current or former school employee, including teachers and administrative personnel, you are eligible to join this credit union. You may also join if you match one of the following requirements: 
You are related or married to someone who is a member of SchoolsFirst Credit Union
You work for a firm that provides services to California schools or districts.
You are a college student pursuing a teaching degree and have been assigned to student teach.
Many individuals will not qualify for membership as a speciality credit union for educators, and there is no way around this (like becoming a member of a nonprofit).
If you meet the eligibility requirements, you may apply in person or online. You'll need to provide evidence of work or enrollment (if you're in college) and deposit at least $5 into a Share Savings account. 
Your membership with SchoolsFirst will be established with this savings account. It pays a 0.05 percent interest rate on balances above $5 and has no monthly charge. Withdrawals are allowed indefinitely.
You must fill out a Junior Varsity and Varsity membership application if you are under the age of 18. To become a member, you must make a deposit of at least $5, and $25 if you want to create a checking account. SchoolsFirst 12-Month College Savers share certificates need youth membership to be eligible.
Even if you retire, change professions, or relocate to a new state or location, once you join, you are a member for life.
SchoolsFirst Credit Union is a credit union for people who are tired of working with big banks and looking for a more personal experience. If you qualify for membership, you will receive great customer service whether you are banking in person or online. There are CD accounts for both short- and long-term savings goals and even an option for college students.
Overall, we recommend SchoolsFirst Credit Union to people who value working with credit unions and are looking for CDs with above-average rates and many terms to choose from. But if finding the best rates is your bottom line, check out the other CDs we've reviewed to find one that's a better fit.
SchoolsFirst Federal Credit Union offers a variety of checking accounts with competitive interest rates. The "schools first investment checking" is one of their options that features up to 1.60% APY.
Related Tags
safe credit union cd rates
schoolsfirst savings account
best cd rates
schools first dividend rates
schoolsfirst summer saver calculator