For a new budgeting tool, you might want to try out the "Budget Template" that has been created by Lark. The website allows anyone to create their own personalized monthly and yearly budget templates. With this template you can track spending along with many others just like yourself in order to keep tabs on your finances more easily.
These "free printable budget sheets" are designed to help people manage their money. They can be used for personal, business, or any other purpose.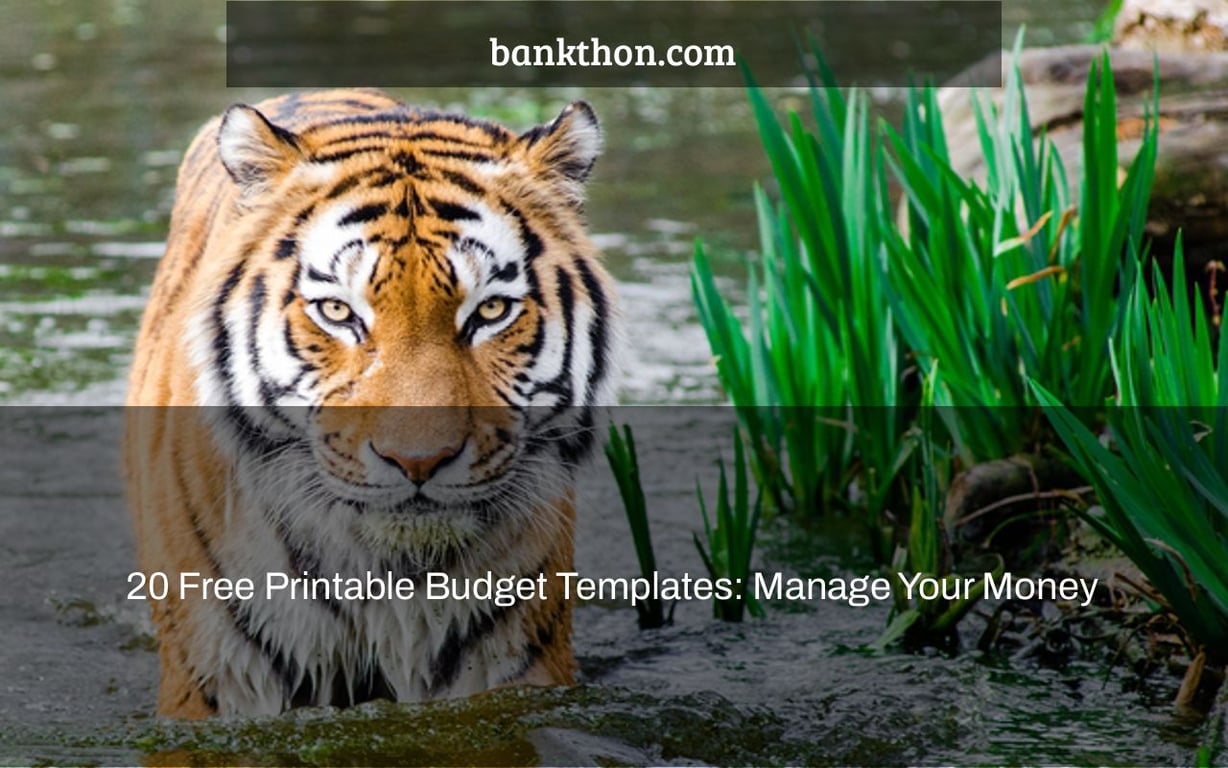 Budgeting is simple provided you have the necessary tools, but not everyone has the financial means to hire an accountant.
The good news is that you won't need an accountant to keep track of your daily costs. To see and comprehend your money, all you need is a check box list or a simple spreadsheet.
A budgeting strategy may help you keep track of your finances and identify where your money is going.
We've compiled 20 free printable templates to assist anybody attempting to manage their money, so no matter your style or budget, you'll find something useful.
We'll go through how to utilize them and what they're useful for. Look through the choices and decide which option is best for you.
Pin
How to Select the Appropriate Budget Template
We wouldn't be doing a decent job if we handed you a budget and expected it to function without modification. There are many budgeting options available, each of which is suitable for a distinct lifestyle. That's why we recommend reading through all 20 of our recommendations before settling on one.
One of the only universally good budgeting suggestions is to keep track of your monthly spending. You shouldn't have to go through piles of documents to figure out how your budgeting is coming along — clarity is key.
A healthy budget should account for all of your necessary costs, such as rent and electricity, as well as your savings objectives (if any) and some discretionary spending.
When browsing these designs, seek for anything that seems simple and enables you to live your life without too many restrictions.
How Do You Use A Budget Template That Is Printed?
The basic principle of budgeting is honesty. It's pointless to deceive yourself about how much money you bring home or how much takeout you order. You shouldn't round the numbers to the prettiest number since your money won't.
To begin, enter all of your monthly (or weekly, if that's simpler) earnings. Then you enter all of your bills, subscriptions, and required payments for the month (or week, if you've selected that format).
Finally, subtract your bills from your revenue to determine your "surplus" funds. This number should never be negative.
If the number is negative, it indicates that you are in debt. You should cancel any non-essential payments to avoid this (like the gym or a wine club). Continue until your "surplus" is positive or zero.
If you can't get rid of any more expenses, you may think about switching providers or shopping for something less expensive. Another alternative is to supplement your income with a side business or a second job.
When using printed budget templates, you must print the page each month and re-enter the information. This may assist you in concentrating on good financial improvements (such as paying off a credit card) or recognizing when a payment has altered.
20 Free Budget Templates to Print
Pin
Now for your free templates!
1. A Simple Budget Template That Allows For Additional Expenses
There are presently four kinds of budget plans available on Printable Crush: one for businesses, another for families, a third that can be customised, and a fourth that is completely free.
The free design is incredibly user-friendly, with basic explanations and math. They feature a "budget" column and a "spent" column, so you can instantly see how much you've budgeted and how much you've really spent.
Everything is well-organized to help the process go more smoothly. A multicolored variant and a green version are available.
2. Budget Template That Can Be Customized
Use Savvy Budget Boss's free templates if your budget is a bit odd. It's changeable, so you may tailor your template to your needs or use their suggestions.
For example, the proposed inputs include a health component, but your health finances may not need a separate area. Alternatively, you may replace this to "kids."
As you fill in the amount of costs and the cost, the concept is quite easy. Then you put the totals together to determine your remaining amount.
The disadvantage is that you must sign in to access the template.
3. College Student Budgeting Template
College students are at an unusual stage of life. They are considered adults and are free to enjoy their lives, but they have not yet had the opportunity to learn about the adult world.
College Life Made Easy has designed a budget with every available part filled in and ready to go to assist these wandering souls.
Housing, monthly costs (such as phone bills), and food are all standard components. However, there is a school part as well as a debt portion. Textbooks, internet bills, and tuition fees are all examples of common college expenditures.
Although a blank version is available, we recommend starting with the pre-filled version. Switch to a more customized sheet after you've gotten the hang of adult budgeting.
4. Formal rather than fluffy
Use Gathering Dream's version if you don't like the bright and colorful budget templates and need something a bit more serious to keep you on track.
From transportation to pet food to property taxes, everything is planned for you. Gathering Dreams is the only template on our list that includes investment percentages and taxes, unlike the others.
Unfortunately, the formulae are missing, so you should already know how these increases and reductions will effect your budget.
5. Monthly Bills, Both Fixed And Variable
You may add additional incomes to the template and divide your expenditures into fixed and variable costs using Mom Managing Chaos. This is a great template for families or homes with several salary earners since it enables you to adjust your monthly goals.
Babysitters, dog walkers, and other one-time expenses are examples of variable monthly payments. The fixed monthly costs, on the other hand, contain things that do not alter, such as rent.
A third area is titled "discretionary expenditure," which basically implies little purchases like coffee or a trip to the hairdresser.
6. Meal Plans Included – Large Enough For A Binder
All of the templates shown above are tiny enough to fit on one or two pages. If you want a more condensed version, Thirty Handmade Days' binder collection is a good option.
A weekly ledger for ordinary costs and deposits, a monthly catalog for typical bills, savings pages, debts pages, your month at a glance, and your year in a look are all included.
There are also sections for meal planning and grocery shopping! Although it may seem to be a different subject, meals represent one of our largest monthly costs. Meal planning may help you avoid wasting food or ordering takeout, saving you money.
The pages are available for free download here.
7. Rainy Day Savings – Big Enough For A Binder
You may also obtain a free binder-sized packet from Money Minded Mom. Unfortunately, you must register to get the template, but no money is exchanged.
The most significant distinction between Thirty Handmade Days and Money Minded Mom is the extra assistance portion. Money Minded Mom assists you in determining your savings percentages and provides visual signals to help you watch your money increase.
8. Color Collection – Large Enough For A Binder
Blooming Homestead is another another free binder-friendly design. This collection, on the other hand, was created with aesthetics in mind. If coin-counting is a relaxing and peaceful pastime for you, you should have a collection to match.
You may select from three different alternatives.
9. Large Enough For A Binder – With Payment Dates
The Frugal Foot Doc offers the binder collection for you if you want your budget template to store more information than just financial numbers.
They feature a bill checklist to assist you keep track of what you've paid in a payment calendar, as well as the typical revenue and spending style.
You may schedule when payments are due to help you stay on track!
10. Family Addition – Large Enough For A Binder
If similar binder collections appeal to you, but you need more space for additional income and costs, choose Clean And Scentsible's version. They allow you to make single and joint payments to help you keep track of all your expenses.
For any remarks you need to share with your spouse, there are various comment boxes.
Pin
11. Financial Goals Big Enough For A Binder
A budget binder template has also been made by Just A Girl And Her Blog. Her design is based on your financial objectives and the timelines you want to achieve them. Do you need to save for a wedding or pay off debts? This binder may assist you in doing so!
Template for a Zero-Based Budget
A zero-based budget is one in which all of your money is devoted to a certain purpose. You should have no money left at the end of the month.
Any money that aren't designated to a particular place are transferred to your savings account. It's taken out of your casual spending account so you know precisely how much money you have when you need to utilize your savings.
Moritz Fine Designs has prepared a free printable template for you to use. The idea is simple, as is the design!
Math Made Simple
Use The Savvy Couple's budgeting template if you want to start budgeting but are worried about forgetting the arithmetic.
They give easy math for each stage to assist you in navigating the budgeting world.
Budgeting in the Family
When it comes to budgeting for a family, there is a lot to consider: daycare, health insurance, entertainment, and so on. You must be financially prepared for yourself as well as another individual.
A Mom's Take has produced a free budgeting spreadsheet for parents to help you remain on track.
15. In Three Colors, Clear And Simple
Try Bobbi Printable's version of a budget template if you just need a basic budget template. You don't have to fill out pages and pages of information, and you don't have to separate all of your billing information if you don't want to.
Because the structure is clear, your mind will be as well.
16. For Those Who Are Already In The Know
Try Scattered Squirrels' free template if you already know what you're doing with your money and simply need a basic template to fill in the information. There is enough room on one page for four months of budgeting.
The simplified version eliminates the need for a binder and lets you to see what you're doing.
17. Goal-oriented and colorful
If you have financial objectives in mind, you may use A Spectacle Owl's template to track them and their progress. The top section is devoted to a simple and easy-to-understand savings guidance with a progress tracker!
18. Large And Simple
If the small boxes and tiny lettering are bothering you, use A Cultivated Nest's big font budget template instead. Everything has been simplified to remove the stress from your budget.
19. Everything, but on one page
If you want the same information as the binder packs but want it all on one page, use My Frugal Home's budget template. This leaflet has all the information you may possibly need!
20. Expense Tracker for the Day
On Planner's tracker is ideal if you just need assistance monitoring your everyday expenditures. They want you to fill in the date, the amount spent, the kind of expenditure, and how you spent the money (cash, credit, debit, etc.).
This might assist you in determining how much money remains on your credit limit and where your free spending money has gone!
Budgeting Apps And Spreadsheets If You Want To Go Digital
Pin
If the notion of a budget template appeals to you, but you dislike the thought of storing it away on paper, consider going digital.
There are several free digital budgeting applications or spreadsheets that accomplish the same thing as the printed paper ones, but they perform the arithmetic for you and save the data without taking up physical space.
1. Microsoft Excel Spreadsheets —
Excel is not a free program for everyone, although it comes pre-installed on certain PCs, and many businesses pay for their employees to use it. This is why we consider it a free or low-cost choice for the vast majority of individuals.
A free budgeting template is available in Excel and is ready to use. The equations are already in place; all you need to do now is fill in the blanks.
2. Spreadsheet in Google Sheets
Everyone can use Google Sheets for free, but you must have a Google account to do so. They also provide a template that includes all of the calculations and allows you to just plug in the data.
If you know how to use Google Sheets, you can add your own equations to the basic data they've provided. Excel is the same way.
3. Fudget – Application
Fudget is a smartphone app that manages your money using a simple addition and subtraction mechanism. It's a great tool for everyday spending since you can add your groceries without having to take out a piece of paper or remember the figures. As you pay the bill, just punch the digits into your phone.
4. App EveryDollar
EveryDollar focuses on budgeting from EveryDollar focuses on zero-based budgeting. It's another simple app (although not as simple as Fudget), which helps you see where your money is going.. It's another straightforward tool (but not as straightforward as Fudget) that allows you to track your spending.
When you have a zero-based budget, every dollar you don't spend at the end of the month is emphasized. It then proposes putting the money aside and beginning over!
Summary
It's never been simpler to get started on your budget. We offer 20 free printable paper templates for you to print, but if you prefer a digital version, there are other free choices available.
Choose one of these basic templates to take charge of your money!
The "monthly budget worksheet pdf" is a free printable template that helps you to manage your money. The monthly budget worksheet pdf will help you keep track of your expenses and income for the month.
Related Tags
free printable budget sheets pdf
budget worksheet pdf
free printable budget planner 2022 pdf
free monthly budget template
free budget template